The Ontario Pipe Trades Council (OPTC) of the United Association of Journeymen and Apprentices of the Plumbing and Pipefitting Industry of the United States and Canada represents 10 Local Unions in the Province of Ontario. These Local Unions have a strong membership of over 22,000 skilled, unionized professionals in the piping trades.
The OPTC and our skilled unionized tradesmen and women represent Plumbers, Steamfitters, Welders, Sprinkler Fitters, Refrigeration and HVAC Mechanics throughout the Province of Ontario.
In addition to promoting legislation that protects public safety and health, the Ontario Pipe Trades Council is also involved in promoting safe working conditions, fair wages with employee benefits and training.
The Council's purpose is to administer various legal and legislative programs to benefit these members, their families and all of the working people in Ontario. The Council retains attorneys, legislative advocates, and consultants to work with the Legislature and Government Officials to achieve these goals.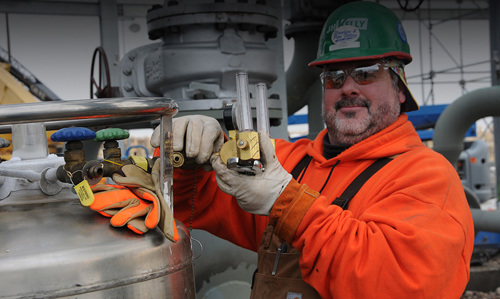 Mission
Our mission is to promote the many technical, commercial and environmental benefits of the Pipe Trades and maximize their use in the construction industry.
The objective of the OPTC is to promote the interest of the Plumbing, Steamfitting, Welding, Sprinkler Fitting, Refrigeration and HVAC industry in the province of Ontario.
Workforce
We are the skilled workforce of the Plumbing and Mechanical Professionals. We perform our job with skill, dedication and an eye for craftsmanship that we know gets the job done right.
Pride in our work is something that is part of our everyday commitment. This pride is not only in our work, but in our community, in our skills and training, in our union and in this opportunity for a better life.
Interested in joining us? Take advantage of this opportunity to work with tradesmen and women who reflect on their work with pride and dedication.
Quality
 The Council is committed to supplying the top trades people on projects across Ontario. The annual investment of millions through the network of local MCAO and OPTC joint training and apprenticeship committees speaks to the strength of this commitment.
Safety and quality are central priorities for the Ontario Pipe Trades Council – protecting our members, our students and the public is paramount.
Our apprentices receive rigorous training on health, safety and environmental codes.
Ratios are maintained and regulated such that supervision is safe and qualified.
The United Association runs an annual "Train the Trainers" program in Ann Arbor, Michigan where instructors learn the latest in technologies as well as training methodologies. This program has existed for 45 years, attracting the support of key material and equipment suppliers. The program includes an "industry review day" involving contractors and owners from across North America.
Why Join
Protected Environment
Whatever facet you work in, whether you're a plumber, pipefitter, refrigeration or air conditioning mechanic, or any of the other skilled pipe trades, we are all professionals who take great pride in our work.
Bargaining
We enforce the highest safety standards, ensure strong pay rates for your hard work, that overtime is appropriately compensated and that you and your family are secure for your future.
Pay and Pension
While contracts and numbers vary slightly from local to local, we are able to provide you with a general overview of the financial benefits of becoming unionized.
Training
The trade is ever-evolving, and so should you! To that end, we offer training courses to our members so that they can stay up-to-date with the latest skills, know-how and hands on experience.